Project Recycled Season One: First Runner Up Erica of Recycled Fashion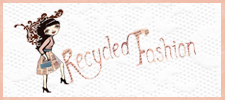 I will update everyone on day five soon enough, but I want to congratulate Erica of Recycled Fashion for entering Project Recycled.
She was the first fellow blogger to sign up for the contest and her upcycled curtain dress was one of my favorite upcycling projects ever! It is just so beautiful and I love the print.
I want this!


So without further ado here is the designer extraordinaire in her own words About Me


I live in Melbourne, Australia, a few minutes walk from one of Port Phillip Bay's most beautiful white sandy beaches with husband, 3yr old son, and black cat from a rescue home. When I'm not overseeing online marketplace

Recycled Market,

I can be found writing and making things for my ethical fashion blog

Recycled Fashion,

co-editing on

Refashion Co-op,

and most importantly, raising my son who started kinder this term. I also love tap dancing, and have a love affair for op shopping (Australian thrift stores).

Every couple of months, I lead op shop tours for

Melbourne Op Shop Tours

taking groups of recycle loving shoppers to my regular Melbourne Bayside second-hand thrifty shops

My blog Recycled Fashion,

is a sustainable fashion blog dedicated to opportunity shops, charity shops, thrift stores, vintage stores, markets, garage sales, car boot sales, online stores and auctions to find those special recycled fashion wardrobe pieces. Showcasing recycled, vintage, upcycled and DIY fashion, sewing, eco-style, ethical fashion, second hand shopping tours, fair trade and general fashion chat.

Recycled Fashion is not just a personal blog, but a collaboration of sustainable fashion initiatives that have been sourced from around the world.



2. What is your favorite item to recycle.

Clothing - preferably thrifted garments that may otherwise be thrown out. I love working with stained, or ripped clothing, making them wearable again, to avoid unnecessary waste



3. You have $5.00 to go into a thrift store, what crafting goodness do you buy and why.

The reduced clearance clothing rack, as I prefer to rework material that may otherwise be discarded

,

otherwise I'll head to the fabric, bed sheets, and pillowcases. I'll choose fabric with interesting patterns and prints




4. Where do you get your recycling inspirations

I get quite a lot of inspiration from pinterest

!!



5. Anything else you want to share

I'm going to give our online marketplace a plug here, and suggest that if you like what you see on Recycled Market, please help to spread the word!




Erica

Louise

Thanks again Erica and congratulations!