Stashes, Doxyclycine, and Morning Sickness?
Have you signed up for Stashbusting September yet? All the cool kids have!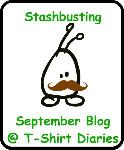 Now onto my regularly scheduled post. I have to say I had some fun things planned for today but sadly I had morning sickness, and no I am not pregnant. I took doxycycline on an empty tummy.
DO NOT DO THIS EVER!
I have to tell you I have never been so sick in my life. I was ill for two straight hours, was fortunate that my wonderful friend Karlie was able to come to my house, on her birthday, and take C1 to school, then my fabulous parents took the little guy.
I then realized in my compromised state I was snack mom and I sent my girl to school with no snacks. Again becoming the world s worst parent. Mom to the rescue running to Target then to C1's summer camp so as not to be the failure of a momma I felt like.
Then I went back to sleep, woke up at 2pm and must have had a flashback to college or something because who gets up that late? Seriously who.
So needless today the regularly scheduled post has been postponed!
I did want to give a quick thank you to all of the blogs that have encouraged their friends to sign up for Stashbusting September including:
Thank you guys so much for your love and support and I can not wait to bust some stash with you!