Upcycled Awesome #56
If you are looking for Stashbusting September Sign-ups Click on Stashbusting Sam Below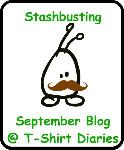 If you are looking for Upcycled Awesome please link your upcycled Projects and Stashbusting goodness below for all the world to see. During Stashbusting September this is very important because we need to share our stashbusting ideas with the world!
So Help a fellow blogger out and share your ideas!
Now go bust some stash!