Stashbusting September - Meet Jill
Our final judge in the wild world of Stashbusting September is the beautiful Jill from a blog that started around the same time mine did. I am happy to introduce Jill from...the coolest blog title ever...Envirocraftiness.
Stashbusting September is a chance to bust through your stash of crafting goodness while pledging to not (yeah that's right not) buy any new crafting materials. I know it sounds crazy but a bunch of bloggers are jumping on board and I know you want to.
Click on this button and sign up for Stashbusting September. You know you have some stash to bust and you can win awesome prizes (from Terracycle ~ eco-swoon yet again) for linking up your September Stashbusting efforts!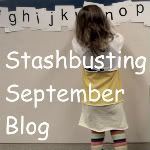 Hello to all you stashbusting superstars!!
I'm Jill from Envirocraftiness, which links my two loves, crafting and the environment.
Jill Getting Envirocrafty
I started my blog in April of this year when I graduated from university. It has been great to keep me sane while searching for a job, and I've met so many wonderful people that really keep my morale up.
I've been crafting ever since I was really little. It used to drive my mom crazy because I would have to save every toilet paper roll and styrofoam meat tray because they're great for crafting. My sister and I used to sew a lot of our own Barbie clothes and make furnishings for their house too!
Every week on my blog I have a feature called What the Heck Wednesday. It's my very own version of stashbusting.
Each week I pull something out of my stash that I may or may not have ideas of what to do with it, and then I ask my readers for suggestions of what to do with the item. The other great thing about WTHW? My readers get entered to win a prize each month!
My all time favorite WHTW project?
This Zen Garden created from a tray (that is, until I finish my current project using a metal pencil case):
Other projects include headboard boxes out of cardboard, fabric and lots of hot glue!
Cute ruffle shirt made from my old pink jersey sheets:
Shelf decor from an empty Caltrate bottle with coffee dyed twine:
I'm so excited to be involved with Stashbusting September, and I can't wait to see what everyone comes up with!
Thanks so much to Robin for organizing such a fun event!