All Apologies
If you signed up for Stashbusting September I am obviously having some sort of horrid technical difficulty and have managed to do something to the original link.
If you don't mind signing up again I would LOVE you so very much: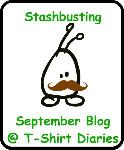 I also wanted to let you know that I changed the link up so that if you wanted to display the sign-up link on your blog you can. It is now a Blog Hop of sorts. I am hoping to get at least 100 bloggers to sign up so the more we can spread the word the better chance we have of keeping our stashes in line.
Thank you and I apologize